Senator Russell's Sweet Potatoes
Pairs Well With
Coquille blanc

Rosé

Wild Thing Old Vine Zin
Ingredients
Senator Russell's Sweet Potatoes
1 29 oz can yam chunks mashed (or 1¾ cups mashed cooked sweet potato)
1/4 cup sugar
2 Tbsp butter VERY soft (but not melted)
1 egg beaten with
2 Tbsp milk and
1 Tbsp dark rum (optional) or orange juice
1/2 tsp vanilla
2-3 tsp orange zest freshly grated
1 tsp fresh ginger grated
1 tsp cinnamon
1 pinch each nutmeg, allspice, cloves, dry ginger
"Streusel" Topping
3 Tbsp butter melted
3 Tbsp flour
1/2 tsp cinnamon
1/2 cup brown sugar (darker the better)
3/4 cup pecans chopped
Steps
Combine all of above, mix well and put into a medium sized casserole dish (nice thin layer in 9x13 or thicker layer in a 9x9) that has been sprayed first with Pam. (This can be made a day ahead up to this point.)
"Streusel" Topping
Combine above and sprinkle over top of yam mixture in casserole dish.
Cover loosely with foil (or a lid) and bake in LOW oven (275°F) for 50 min.
Uncover and bake another 10 minutes to brown up the topping—yum!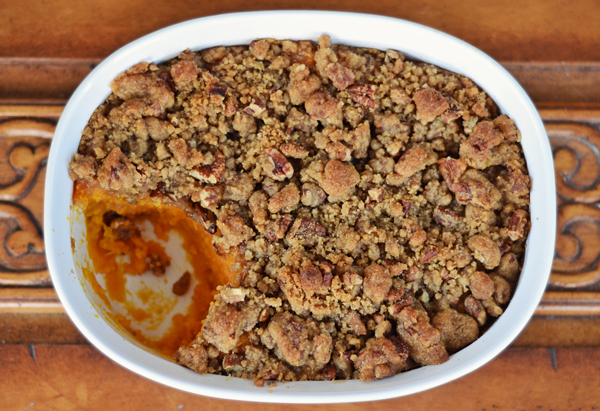 Description
This was my Mom's favorite Thanksgiving dish for our annual feast. Years after we moved from Rochester, New York to the San Francisco Bay Area, I found a cookbook in a Reno hotel gift shop that came from the Rochester Junior League, called "Applehood and MotherPie." I gave it to my Mom for her birthday and this recipe was one of many she claimed for her own from the start.
I knew I had really grown up in her eyes when she allowed me to prepare this at home and bring it to the meal, knowing full well that I cannot follow a recipe as is, if I think I can "improve on it" by putting my own spice twist on it. The addition of cinnamon and orange zest/juice was Mom's idea, but the fresh ginger, rum and "pinches" are all mine! She was my greatest teacher for cooking and for life, who gave me the confidence to experiment in the kitchen and beyond…and lead me to my career as a winemaker where I use the sensory skills she cultivated every day of my life. I give thanks for my Mom this holiday—for whom/what are you grateful this season?
PS not sure who Senator Russell was, but he makes a yummy dish for our festivities. It pairs wonderfully with our Chardonnay or Viognier or Coquille Blanc. The dry Rosé is awesome with it, as are the Pinot Noir and the Wild Thing Zin!
Notes
PS leftovers of this taste great swiped onto the bread of a turkey sandwich in place of butter, but don't forget to add the cranberry relish and stuffing, too! I call that my Second Chance to get Stuffed lunch!