Ingredients
6 Flour tortillas one per quesadilla, since you will fold them over on themselves
Creamy cheese like Alouette, Chevre or Brie (or your favorite artery clogger!)- if it is very runny, freeze it for 20 min so it is firm to cut into small slices/chunks
Swiss cheese shredded, or another "slightly creamy but firm," nutty-flavored cheese- this is needed to hold the quesadilla stuck closed better!
cilantro Fresh leaves, rinsed and dried, then ripped or snipped into small pieces (chiffonade is good)
3 T. pine nuts toasted nicely (must be fresh toasted, since they go rancid fast)
Pears ripe, sliced into thin slice/wedges (1/8") and/or ripe white peaches in 1/4" slices
1/4 cup cooked seafood like crab or small salad shrimp (optional)
1 T. butter melted (if need to sauté the fruit if too firm)
1 t. juice and zest of 1 lime
1/4 t. ginger grated, fresh (I buy mine in a jar, pre-grated, to save time and my knuckles)
Steps
Start by preparing the fruit--sprinkle with lime juice/zest and smear a dab of ginger over very thin slices of pears in a small bowl, mixing gently to coat each piece. If the pears are still hard (not very ripe), melt the butter in a small sauté pan and sauté the pears till they are lightly browned but not too mushy—just enough to take the crunchy edge off them. The peaches are soft enough as they are usually, but you can quickly sauté them also if you like! You can also grill the fruit—cut in half and remove core/pit, then take a small slice off the bottom so they lie flat on the grill. Grill cut-side down for 1 minute, then flip over and baste with the butter/lime/spice mixture while grilling, cut side up, for 1-2 minutes more. Then cut in thin wedges to put into the quesadillas as needed.
Slice or scoop the fatty/creamy cheese into tiny chunks—about 1" long and as thin as you can get them! This is easier if you put the cheese in the freezer for just a few minutes before you cut it, in the case of Brie especially.
Grate about 2-3 T. of Swiss cheese for each quesadilla.
Assemble the quesadillas as you cook them on the stove (on a sauté pan or griddle) or on the well-oiled grill. It is vital to work fast, so have everything close at hand—prep ahead.
Put down one tortilla in the pan/grill, then alternate ingredients like spokes on a wheel: a few slices of pear or peach, a chunk or two of creamy cheese, and sprinkle on a few cilantro shreds/leaves, the grated swiss cheese, the seafood if using, and 1 T. toasted pinenuts. Quickly put another tortilla on top of the bottom tortilla, and push down on the edges a bit to "seal" them. Using a really big spatula, flip it so it gets toasted all over and the cheese is nice and melty—it will be messy so do not wait too long to do this, and do not put too many goodies inside each quesadilla, or you will not be able to eat it without losing everything all over the place.
Cut the finished quesadilla into wedges and serve while hot.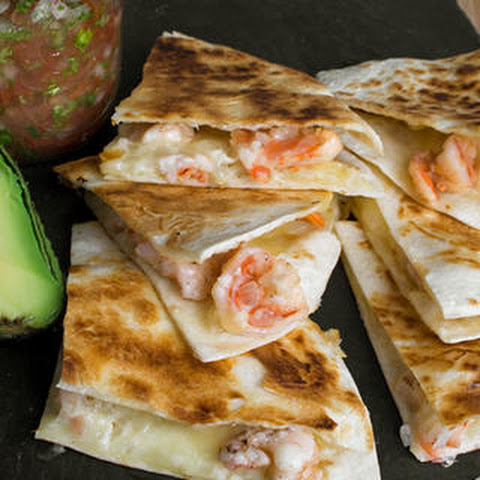 Notes
Enjoy with a glass of lightly chilled Carol Shelton Coquille Blanc!