Hazelnut Meringue Cake with Apricot Cream
Ingredients
For the cake
4 large egg whites
1 1/3 c. superfine sugar
1/2 t. vinegar
3-4 drops vanilla
1 cup hazelnuts toasted, skinned and finely ground
For the cream
8 oz. dried apricots huge, sweet, soaked overnight, enough water to cover
8 T. sugar
Juice of one lemon
2 T. Apricot Brandy
2 c. whipping cream
4 T. confectioner's sugar
Steps
Butter the bottom of two 8" round cake tins and line with parchment paper. Grease and flour the paper and the sides of the pans. Preheat the oven to 375°F.
Whisk the egg whites till stiff, adding the sugar 1 T. at a time, continuing to beat until the mixture is very stiff and standing in peaks. Whisk in the vinegar and vanilla and fold in the ground hazelnuts.
Divide the mixture between the two cake pans and smooth the top with a flat knife. Bake about 30-40 minutes but no longer. The top of the meringue will be crisp and the inside soft like a marshmallow. Turn out onto wire racks to cool. Can be made up to two weeks ahead.
Meanwhile, for the cream, place the soaked apricots AND their soaking liquid in a medium saucepan, add the sugar and lemon juice, cover and simmer gently until soft enough to puree. This can be done in a microwave. Do NOT drain off the liquid!
Whip the cream with the powdered sugar until soft peaks form. Fold the apricot puree into the whipped cream one third at a time. Chill until ready to use.
About three hours before serving, spoon half the apricot cream onto one meringue layer. Top with the remaining layer and spoon the remaining apricot cream overall. Refrigerate until serving time. Garnish with slivers of dried apricots and chopped toasted hazelnut. Serve with chilled Carol Shelton Sweet Caroline!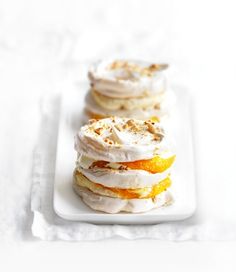 Notes
Serve with chilled Carol Shelton Sweet Caroline!