Ingredients
3-4 Zucchini squash quartered lengthwise and cut into 1/2" chunks
2 big or 4 smaller tomatoes cut in chunks, preferably those great "vine-ripe" cluster tomatoes- get a mixture of colors from yellow/orange to red
About 1/2 c. cherry or grape tomatoes cut in half
3-4 T. olive oil good quality
About 1 tsp. each Basil, oregano, thyme fresh if possible
1 T. Dry mustard powder
1 t. salt, black pepper to taste
1/2 t. Allspice
1 t. cinnamon
1/4 c. dry vermouth (or dry white wine)
1/4 c. balsamic vinegar good quality
2-3 t. sun-dried tomato paste preferable Amore brand in a tube like toothpaste- be careful because they also sell double concentrated regular tomato paste- it is not as sweetly flavored, though it will work in a pinch, as will tomato paste in a can
1/4 c. pine nuts toasted in the oven/toaster oven till nice chocolately brown
Steps
Sauté the zucchini chunks for a few minutes in the olive oil, then add the tomato chucks—save out some cherry tomatoes to add in later so you'll have some that are not as mushy at the end.
Add the herbs, dry mustard, and salt and pepper, and cook down for a minute or so, till some of the tomato liquid is absorbed or steamed off a bit.
Add the balsamic vinegar, the vermouth/wine and the tomato paste, stir well and simmer for a few minutes, then add the cinnamon and allspice.
Simmer for another 3-5 minutes till the zukes are tender but not too mushy.
Add reserved cherry tomato halves and pine nuts, stir in and serve.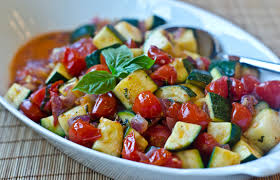 Description
Servings 2-4

Cook Time 7-10 minutes
Notes
With our crazy schedules, we like to have it with some marinated boneless chicken breasts off the BBQ or George Foreman grill, so the meal goes together in about 10 minutes.